Doctoral thesis defence: Collins Makunda
Talk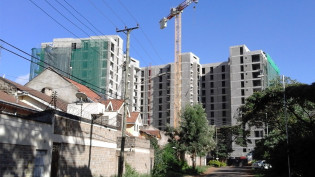 Time

24 September, 2021,

11.00 – 15.00

Location

Zoom (sign up on www.aho.no)
We have the pleasure to invite you all to the public defence of Collins Makunda's PhD thesis! Makunda will defend his PhD thesis "Urban Habitat Transformation and the African Middle Class, The Case of Kileleshwa, Nairobi, Kenya" at AHO
The subject of urban transformation in cities generally and in those of the global south in particular is a significant matter that requires to be understood and where possible, guide policy. While poverty is growing in cities of the south, there is an emergence of a significant middle class that has also increased the demand for basic urban goods such as decent housing and infrastructure. Developers are providing housing for this class and this is evident across many cities of the south.
In this thesis, the nature of this transformation was investigated through the following key research question: What are the processes, characteristics and outcomes of the rapid transformation occurring in low-rise urban residential areas in Nairobi?
Adjudication committee
First opponent: Professor Winnie Mitullah, University of Nairobi
Second opponent: PhD Anders Ese, Head of R&D Urban A, Oslo.
Coordinator: Professor Tim Ainsworth Anstey, AHO.
About the candidate
Collins Sasakah Makunda has held a position as a lecturer at the University of Nairobi in Kenya, since 2011. He is currently a lecturer in the university´s Department of Art and Design, Faculty of Built Environment and Design (which until mid-2021 was the School of the Arts and Design, College of Architecture and Engineering). He has Master´s degrees in City Planning (MCP) from the University of Pennsylvania (U.S.A.) and in Interior Architecture (MIARC) from the University of Oregon (U.S.A) as well as a Bachelor of Arts degree in Design (BA-Design) from the University of Nairobi.
With his multi-disciplinary design background, he is keenly interested in the theoretical, pedagogical and praxis aspects of design not only as object and process but also in its spatial expression at both the interior and urban scales. His academic, professional, and research interests and experience are in the intersection of design at its various scales [object, interior, architecture, urban] with social, cultural, and human factors, in addressing pressing societal challenges, and its implications for sustainable outcomes and a better quality of life in the built environment.