Doctoral thesis defence: Noel J.O. Okello
Seminar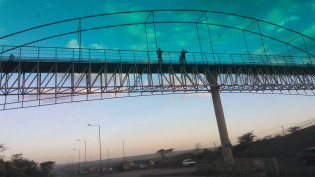 Time

31 March, 2017,

10.00 – 16.00

Location

AHO
Noel J.O. Okello will defend his PhD thesis Our Way or the Highway? A Study of the Reframing of Transformed Road Transportation Infrastructure in the Nairobi Metropolitan Region at AHO on 31 March 2017.
Trial lecture 10.00: TBA
Disputation 12.00
Supervisors
Professor Karl Otto Ellefsen, Institute of Urbanism and Landscape, AHO. Main supervisor. Professor emeritus Sven Erik Svendsen. Co-supervisor.
Adjudication Committee
Professor Winnie V. Mitullah, University of Nairobi, Kenya. First opponent.
Professor Wilbard J. Kombe, Ardhi University, Dar es Salaam, Tanzania. Second opponent.
Architect, PhD Anders Ese, Rodeo Architects, Oslo. Third member and coordinator.