Future North: Svalbard
Seminar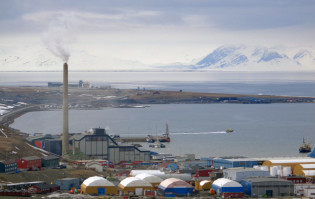 Time

23 October, 2015,

12.00 – 18.00

Location

AHO - Auditorium 3 - Christian Norberg-Schulz
Researchers from the Future North project will present ongoing research on Longyearbyen, Svalbard and the Barents Region.
The Archipelago of Svalbard, is undergoing change – from a pure resource extraction economy to an increasingly diversifying society with a focus on tourism and research, e.g. the World Seed Bank, climate research institutions, and international satellites facilities. The Future North project inquires how this economic shift is followed by demographic change, the emergence of new types of settlements and infrastructures, and entirely new forms of landscape production. Longyearbyen, the 'capital' of Svalbard, is a lively community, now facing closure of its cornerstone-industry: coal mining. World market prices have plummeted, operating costs are high, and coal power is perhaps too much of a paradox for the Norwegian government priding itself on sustainable energy and environmental protection of the archipelago's wilderness. What is the role of Longyearbyen in engendering change in this Arctic territory?
Students from the Institute of Institute of Urbanism and Landscape (AHO) and from the Academy of Landscape and Territorial Studies (The Arctic University of Norway and AHO) are currently studying the Svalbard Territory and the present and future role of Longyearbyen.
The seminar is an open event.
Presentations by:
Peter Hemmersam (Assoc. prof. at the Institute of Urbanism and Landscape): Travelling with Luggage – beyond deadpan mapping
Kathleen John-Alder (Ass. Prof., Dept of Landscape Architecture, Rutgers University): Landscape
Eimear Tynan (Ass. prof at the Tromsø Academy of Territorial Studies): Frozen Fields
Andrew Morrison (Director of the Centre for Design Research at the Institute of Design): Longyearbyen 3000
Aileen Aseron Espiritu (Researcher at the Barents Institute – The Arctic University of Norway): Futuring the Arctic: strategies of sustainability in Longyearbyen and Barentsburg
Lisbet Harboe (Assoc. prof. at the Institute of Urbanism and Landscape): A Climatic Dictate or Just Another Local Place?
Janike Kampevold Larsen (Project leader, Assoc. Prof at the Institute of Urbanism and Landscape): Svalbard – fluid territory