Inhabiting Change + Turning at the Limits of the World
Performance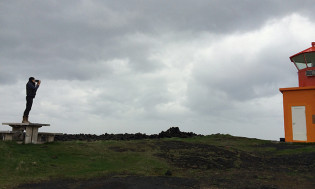 Time

28 May, 2014

Location

Oslo, Tromsø, Vardø, Kirkenes, Öndverðarnes
Elizabeth Ellsworth and Jamie Kruse of Smudge Studio will be Inhabiting Change in Oslo and Tromsø and Turning at the Limits of the World in West Iceland, Vardø and Kirkenes in Northern Norway.
Through a practice of Performative Research—a hybrid of aesthetic work and knowledge production—Smudge Studio forms part of the Future North experimental mapping of agencies of landscape and communities in the High North.
Our field research for Future North will consist of an "inhabitation project" that will span several locations.  We will seek out sites and times where forces of change related to the futures of the "North" are unfolding with particular intensity, palpability and exquisiteness.  We will inhabit built structures, landscapes, and events at volatile edges of forces of change as "field stations" or "apertures" for observing, sensing, documenting, and creatively responding to "forces of change" in play on a daily basis around us.  We imagine making observations about, and creative responses to, global forces of change, and how they are reshaping daily, lived experiences and meanings of "North-ness."
We will use the immediacy of new digital media to slow down, pay deep attention, move-with, and make-from-within events and forces of change itself.  We wager that the lively, alter-world in the midst of emerging right now will catch us and gesture back. Much of what we need for this project will be learned and invented along the way.
We intend that creative works resulting from our inhabitations at such edges will put the projects' diverse sites into relation to one another.  We want to offer dynamic images and stories of how the unprecedented intensities, scales, and speeds of contemporary change are inflecting human daily life, imaginations, and acts of building and making.  The inhabitations will allow us to move-with some of these new directions, and make something of the generative potentials they offer to designers, artists, and citizens.
We intend to create dynamic tracings of the arrival of new futures of the North into widespread human + nonhuman cognizance. Works that result from Inhabiting Change may take the form of a series of linked multi-media dispatches. 

We also intend to compose a collaborative, human + nonhuman voice with multiple, moving points of view—while we live and make in the midst of the forces of change that currently are composing emerging futures north.
Iceland: May 28-June 3
Oslo: June 4-8 (in collaboration with the Thief Hotel)
Tromsø: June 9-11 (in collaboration with Small Projects gallery)
Vardø/Kirkenes: June 12-15 (in collaboration with Pikene på Broen)
Tromsø: June 16-20 (in collaboration with small projects gallery and Tromsø Academy of Landscape Studies and Tromsø Academy of Contemporary Art.)
Friends of the Pleistocene Blog