Conference paper
Design Fiction in Design Education: Urbanism, Landscape and Futures Literacies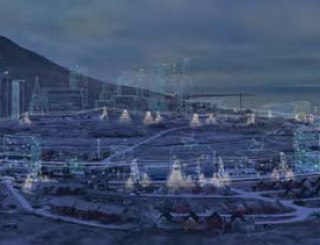 This paper extends the tradition of speculative design linked to products and gallery settings to an exploratory narrative design fiction within the domains of landscape and urbanism to address matters of future literacies, context and climate change. Theoretically based in narrative, communication design and sociocultural learning, the paper presents a design education experiment in two master's level studio courses in urbanism and landscape from autumn 2015 on the arctic island Svalbard. Moving away from depleting practices and policies of mineral, oil and fishing extraction, these courses investigated alternate ways in which urban, physical and cultural landscapes might be investigated – creatively, civically, critically – for more open, productive 'design futures' within the community of the island. The paper embodies and discusses students' productive, putative and projective design fictions as a mode of speculative learning and futures studies. It unpacks its articulation in emergent and informal work over a semester with 12 student contributors and a designer-researcher and design educator-researchers. Analytically, the paper develops a para-pedagogy of design fictioning within the notion of expanded and multiply voiced learning spaces: design fiction may be understood as participative and anticipatory yet situated and realised within a wider pedagogy of speculative design literacies. Methodologically, and via the format of a multimodal essay, the paper reflects on how such a process may be enacted within an overall anticipatory and collaborative pedagogy of critical design and futures literacies. The paper works between multimodal design fiction work itself and analysis and reflection on production based inquiry and problem-finding as research strategies in shaping learning in the future.
Image: Longyearbyen 2050, projected future, digital rendering of high rise buildings, lighting and transportation infrastructures, on contemporary photograph. (Benjamin Astrup Velure).
Morrison, A. 2016. 'Design Fiction in Design Education: Urbanism, Landscape and Futures Literacies'. In Cumulus. Hong Kong: 21.11.2016–24.11.2016.