Report
Norwegian Urban Challenges – Stakeholder dialogues 2018
Harboe, Lisbet

|

Geirbo, Hanne Cecilie

|

Hoelscher, Kristian

|

Petersen, Sobah Abbas

|

Christie, Ingrid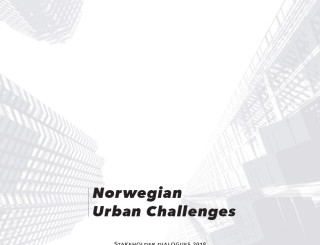 This report highlights some of the main challenges facing Norwegian cities. These are likely to demand increased attention now and in the years ahead. Through dialogue and discussions with stakeholders, the report discusses questions related to urban development, energy, governance and participation in Norwegian cities over the next three decades, as well as ways of tackling them.
Download the report here
Harboe, L.Geirbo, H., & Hoelscher, K., & Petersen, S., & Christie, I.(2018).
Norwegian Urban Challenges – Stakeholder dialogues 2018
. Oslo Available:
http://hdl.handle.net/11250/2640806