Arctic architects and urban planners exchange experiences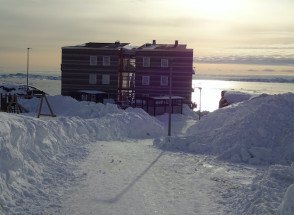 Videos from the Arctic Urban Space Design webinar are now available.
One hundred architects, planners, researchers, and students exchanged experiences relating to the design of urban spaces in various Arctic territories. The six invited experts from northern Alaska, Canada, Sweden and Norway, and Svalbard presented their work, research and experiences from these different Arctic urban contexts.
The presentations touched on several issues and themes: mobility and use of public urban space, identity, and the importance of cultural heritage in urban development, differences in urban and building typologies in different Arctic territories, and climate change as a design challenge in Arctic communities. In the panel debate, we touched on questions of urban identity in what is often considered a non-urban territory, controversies surrounding the planning and design of outdoor urban spaces in Arctic societies, circular economy and reuse of buildings, as well as the need for public participation in the planning and design of urban spaces.
It is obvious that Arctic cities are not like other cities and that they share features like long winters, harsh weather, and seasonal variation. Cities in the Arctic are feeling the effects of climate change, but they are also changing and becoming more accessible and diverse. Arctic cities often do not follow conventional design models regarding architecture and spatial planning. For example, they often have low-density open structures that provide easy access to the city's spaces, especially in winter.
At the same time, Arctic cities are also very different. In some places, cities are a new phenomenon, while in other locations, they have existed for centuries. Many smaller villages are shrinking while other places are growing and thriving. Despite their remote location, some Arctic cities compete for investment and talent. Some have successfully capitalised on their unique natural and cultural identities to become attractive and vibrant urban places.
Some of the Arctic communities we heard about are home to indigenous peoples. Here, urban planning and design have been part of colonial modernisation projects. At the same time, we see that increasingly autonomous and resourceful urban communities are exploring the possibilities that lie in the tension between modernity and cultural continuity, expressed through architecture and urbanism.
The webinar was organised by the research group Arctic City at the Oslo Centre for Urban and Landscape Studies in collaboration with the Arctic Building and Construction project based at DTU.
More on the ABC subproject: Architecture and Urban Space
You can watch recordings from the webinar here.