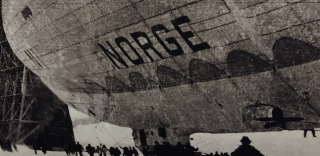 Technologies of seeing, remote sensing, satellite hoovering. Who'd have thought the far north town of Svalbard would have become such a techno-scape. Mines closed, hand drills and the elaborate overhead shuttle system would be replaced by scientists, students and tourists. Hey, it's time to get outta town, this frontier like moon base sorta place I heard one of those Future Northers saying. Students all off on a landscape architecture task to draw sections, see the town differently, scaled and spliced up with new eyes.
Reminds me of coming across those adverts for the Spitsbergen Airship Museum. Ha! I see it's closed for the dark months. I fly on through the inky skies all year.
The westerly side of the archipelago is largely ice free, with low pressure and currents keeping my seas just crisp. And summers are a treat, with the midnight sun my companion. Not to mention the gaggles of tourists who now bob about their pleasure palaces happy to see a murky lens zoom of a polar bear and her cub oblivious to the onboard lecture on climate change.
Ah, climate toursim. They are so intent on the bears that they done see me floating in the sky behind the vessel, blimp like for a moment, then with a flick of my tail, gone, below the surface, my sensors zinging with the depth.