Eimear Tynan: How can contemporary interdisciplinary discourse on landscape inform the discipline of landscape architecture?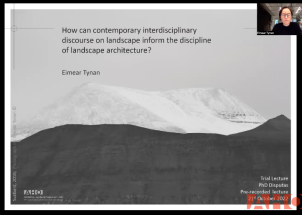 Eimear Tynan's PhD trial lecture is available online.
Eimear Tynan defended her PhD thesis "Tempo-materialities: Encounters with time along Arctic island coasts" at AHO on October 21st, 2022. You can find the thesis here.
You can see the lecture here.
Eimear Tynan is a landscape architect and holds a Master of Landscape Architecture from both University College Dublin and The Oslo School of Architecture and Design. She is currently employed as a full-time Associate Professor of landscape architecture at the University of Tromsø (UiT). She has over 10 years of experience working in landscape architecture practice which has helped to shape, inform and develop her research interests. Through her doctoral research there has been a focus towards themes relating to the temporalities of High-Arctic landscapes and an examination of how human activity and more-than-human processes have conditioned Arctic island coasts.