MyBarents: Participatory Mapping in the Future North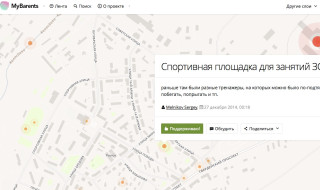 Using social locative media, people's engagement with their local urban environment are investigated in neighbouring communities in an Arctic transnational area (Vardø and Kirkenes, Norway, and Nikel, Russia).
The focus is on investigating the participatory co-design potential of a locative-mapping tool, mybarents.com, which was developed by community activists in nearby Murmansk, Russia. The online platform allows people to share ideas on a map, discuss them, and also link into select neighbouring areas. It is not suggested that the landscapes in question have not already been created and continue to evolve in the absence of formal and informal participation by the various different peoples and cultures that live there. Instead one can argue that the use of locative social media may be a useful tool to make various voices more horizontal, and provide a point of departure for focused designers and decision makers in the creation of built and social spaces.
MyBarents.com is a component of ongoing PhD research based on Ip's residency at the Barents Institute in Kirkenes.
MyBarent in the news:
MyBarents is based on the MyCity platform, currently applied in a number of Arctic Cities.