Science and Imagination: A+E Conference and new Research Fellows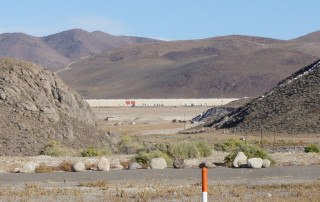 The Art + Environment Conference at the Nevada Museum of Art  on October 9–11, 2014 included a number of presentations of collaborative teams working on documenting landscape change.
The conference presented a number of artists dealing with two themes: how animals define humans based on the question of taxidermy and museum contexts, (Petah Coyne, Snæbjörnsdóttir and Wilson) and the human relationship to earth systems. A series of presentations focused on landscape fieldwork as practice. In the last group, some presentations specifically focused on artists' agency with regards to landscape sustainability and ecological systems, even going as far as Lauren Bon and Metabolic Studio who proposed a fictional ecologic state, the state of Rose, based on the management of the scarce water resources in the American "Intermountain West". Rose is a coalition of watersheds, The Colorado River, the Columbia River, the Rio Grande and the Great Basin, echoing the US Surveyor John Wesley Powell who claimed that people in the west should live in the drainage basins.
Large scale ecosystems mapping was a reoccurring theme (e.g. Helen Mayer Harrison and Newton Harrison), but the Australian Parkuru Project presented their community based work in Western Australia, which included revitalizing a local arts center, painting with the community as well as landscape ecosystems management.
Art as documentary practice was evident in a number of presentations, often carried out by multidisciplinary teams involving artists, academics and people with different kinds of media skills. The agenda of these collaborative projects vary. Some are directly seeking to effect public opinion by showing the consequences of anthropogenic environmental impact (Terry Evans and Elizabeth Farnsworth, The Canary Project), with the mediation of environmental data (Ken Goldberg, Fernanda Viégas and Martin Wattenberg), while others adopt a more 'archival' approach that seeks to map the physical materiality of what Jeff Manaugh called an emerging "post-natural geography" – the adaptation of the planet by manmade environments (The Venue Project).
Large-scale landscape transformation, such as climate change, does not happen in human time, as Edward Morris and Susannah Sayler from the Canary Project points out, but in a slow 'geologic' time. To deal with this 'problem, these collaborative teams adopt a range of practices including the documentation of both historic and ongoing landscape transformation, speculation on future change as well as a variety of mediation strategies.
Reflecting on some of the presentations, science fiction writer Bruce Sterling talked about work he had been involved in at the Center for Science and Imagination at the Arizona State University, and ended his talk by proposing to start working on what he called "Land Art Fiction". His suggestion for a practice based on science (and perhaps documentation) speculation resonated well with the future thinking involved in the Future North project, and the team-based landscape documentation practices are important inspirations in our work.
At the conference Future North researchers Janike Kampevold Larsen and Peter Hemmersam were announced as new Research Fellows at the Center for Art + Environment by center director Bill Fox, for a period of two years.