TropiNordic Design Dialogues: Colombia-Norway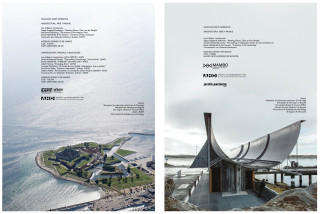 A group of architects, landscape architects and urbanists traveled to Colombia, all the them connected to The Oslo School of Architecture and Design (AHO). The research seminar they attended was organized in collaboration with the Bogota Museum of Modern Art, the center for Urban and environmental studies EAFIT, Giancarlo Mazzanti studio and the Norwegian embassy in Bogota.
The research seminar was hosted by URBAM and EAFIT University, It was titled "Landscape and architecture between legacy, research and practice". There were four presenters from AHO and two from EAFIT. First out was Janike Kampevold Larsen who talked about territorial management with a focus on the National Tourist Routes project and on a research project she has headed at AHO (NFR-funded) called Future North. Thereafter Beate Hølmebakk, still representing Manthey Kula, presented her third public lecture at the AHO-Colombia tour. This time the title of her lecture was "Fieldcraft" with reference to architectural craftsmanship in relation to nature. Hølmebakk gave the Columbian audience an introduction to the very specific importance of nature in Norwegian architecture, giving examples both from history (Knut Knutsen, Christian Norberg-Schulz and Sverre Fehn) and contemporary times (Carl-Viggo Hølmebakk, Jensen & Skodvin and Manthey Kula). The last UL-envoy out was associate professor Lisbet Harboe who gave a talk called "Emerging Arctic". With reference to master studios on the Arctic conducted at AHO (run in collaboration with Peter Hemmersam), she discussed the challenging issue of doing urbanism in the Arctic. The Arctic is in many ways continuously being urbanised, but the quality and the potential that this might represent, needs to be better understood and explored.
The first Colombian to present was the art curator Lucretia Pedrahita, who gave us a talk under the title "Architecture, art and landscape. At the verge of the non-visible". Next one out was the architect Ana Elvira Velez from URBAM who gave a talk on issues of housing, focusing especially on the importance of exploring new housing schemes for rural areas. The last presentation was given by AHO's Sabine Müller, whos talk was titled "Environments: A concept for Urban Projects". She presented more speculative and manifesto-like projects, as she put it, from her own Berlin-based architectural practice SMAQ (which she runs in collaboration with Andreas Quednau). The idea behind many of the more experimental projects of the firm is, as she showed us, to open the projects in question up to the broader environmental realm in which they are placed, focusing not only on nature, but for instance on infrastructures or more specific social structures and issues. The seminar ended with some closing words by Alejandro Echeverri, director of Urbam.
The last part of the programme was a visit to a selection of Medellín's repurposed water tanks. A group from AHO attended a seminar with Sabine Müller and her students at URBAM. Here the architect Francesco Orsini gave an introduction to the thinking behind Medellín's PUI projects. One such example is the UVA (Unidades de Vida Articulada) project, in which high quality public spaces have been made in connection with a selection of the city's many hillside water tanks. Most of them are placed in dense informal settlements. Since the first UVA project opened in 2015, more than 20 water tanks have been reclaimed as public space, all of them with different contents and designs, reflecting the needs and desires of the local neighbourhood. The "Unidades" are managed by EPM (Empresas Públicas de Medellín), a public enterprise (water, gas and telecommunications) that is owned by the city of Medellín.
The travel associated with the seminar focused in particular on urban development that emphasizes social sustainability. We intended to learn from the important and ground-breaking work in urban planning in Medellín and Bogota. This is an explicit part of an interdisciplinary research project funded the by Research Council Norway, "Learning flexibility: Complexity, Innovation / Inter-Urban Knowledge Transfer".
http://www.plataformaarquitectura.cl/cl/867894/dialogos-tropi-nordicos-un-viaje-por-la-construccion-del-paisaje-escandinavo
AHO participants:
– Luis Callejas from Medellín, now in Oslo (LCLA office + AHO) http://www.luiscallejas.com/
– Beate Hølmebakk and Per Tamsen (Mantley Kula + AHO) http://www.mantheykula.no/
– Sabine Müller (SMAQ Architektur und Stadt + AHO) http://www.smaq.net
– Lisbet Harboe (AHO) http://www.oculs.no/people/4006/
– Alejandro Echeverry (urbam-EAFIT) http://www.eafit.edu.co/centros/urbam
– Marianne Skjulhaug (AHO)
– Jeppe Aagaard (AHO)
– Jonny Aspen (AHO)