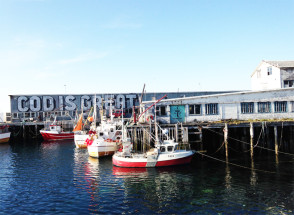 It's a rather mild June afternoon in Vardø. This once Arctic city is at the northeast of Norway. I am resting right underneath the boardwalks in Vestervågen, among poles that were for a large part put down after WWII. You'll recall that the German Nazis blew up most of the facilities on this side of the harbourfront. It looked quite different back in even 2014.
The restaurant above has an outdoor dining area now – over the past ten years people have been able to sit outside more often, most restaurants now have them. This one is buzzing with voices, kitchen sounds and plates. Mostly tourists. The usual blend of German bikers, American and Canadian artists, Norwegians finally exploring their north. And students – the city has become a case study for city development in the Arctic. The food is excellent I hear them saying – local fish, vegetables from the many smaller farms in the area, game meats. I dive down quickly, careful not to make a splash, as I don't want to hear if we are are on the menu!
Exotic we've become in a different way as the temperatures have risen and we have spread eastwards, no longer hard to see, that being our old exotic character. We are still not that easy to catch. But easy to eat?
So here is urban arctic transformation in this small island that is not oil-driven. Tourists and specialist foods, and even a Residency for artists, writers and researchers. A refuge. A site for presentations and debates on the future of the far north, over the past decade, now in 2025 climate change has moved from the future to the immediate present. I lie here underwater. Oxygen is spread about my body, not being just mostly based in the lungs like the talking tourists. And I wait. Time is poised in the centre of the harbour floor while climate time rolls forwards in the clocks of the Anthropocene.